Rutland Camp 2022
Thursday 28th June to Sunday 3rd July
Rutland Water is a vast expanse of non tidal water and a jolly good sailing and windsurfing area. It is the biggest man made reservoir in Europe (3000 acres) formed from a damned/flooded valley in beautiful surroundings near Leicestershire (approx 2-3 hours drive from Farnborough area). We sail from Rutland Sailing Club and during club opening times (circa 0800 -1900hrs) have full use of their facilities (showers/loos/wet bar/bar and restaurant etc).
Accommodation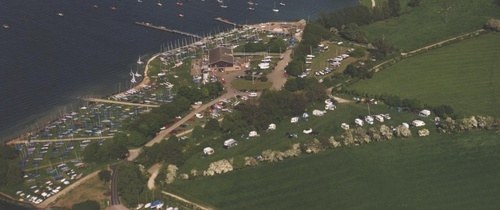 Immediately opposite the sailing club is a small campsite with level ground, water points and chemical loo emptying facilities. Camp site charges are circa £4 – £12 per tent (depending on size of tent) per night. Campervans are also permitted. Pets are also welcome.
For those not too keen on camping, the RSC does offer accommodation in bunk rooms. Alternatively the village/local towns have B&Bs on offer but I suggest you will need to pre-book. The RSC web site also provides a list of local accommodation.
Launching Fees
We will be storing our dinghies and launching from Rutland Sailiing Club. They are charging us a rate of £42.75 for doublehander dinghies and £33 for singlehanders for the period from Friday to Sunday inclusive.
Daysail Planning
A consensus will emerge each day as to the best destination to sail towards. You are welcome to join others doing this or to choose to sail to your own favoured place.
With lots of water space, no wind shadows, usually nice winds and safety boats around it's a excellent opportunity to master that kite, get out on the wire, or borrow a singlehander to perfect those dry capsizes.
This RYA Dinghy Trail should give a good idea of possible daysail destinations.
Around Rutland Water
The local village has a pub serving good food within easy walking distance, and the town of Oakham is a 15 minute drive away. If there is no wind then walking or cycling (26km circumnavigation of the reservoir) is said to be good and, in the area for shoppers, Oakham is not far away.
Booking
Booking and joining details will be published nearer the time (probably following the Weir Quay camp). Booking will be done through the Cody planning spreadsheet on Google Docs. If you are interested in attending, I willl need to know if you wish to use the campsite so that I can confirm campsite bookings (I have already provisionally booked a few pitches) but as it will be getting towards high season, I would like to harden up on numbers as early as possible.
Check, Clean & Dry Procedure for Visiting Boats
Rutland SC have biosecurity byelaws in place which RSC will enforce. Please read the link from the RSC website or http://www.nonnativespecies.org/checkcleandry/index.cfm for full details. In summary they are worried about invasive waterbourne species cross contamination – particularly from other inland waters. If you are bringing a boat they will want to know and see that it has been thoroughly washed AND DRIED before allowing on the water. This will apply to boats, trolleys and trailers, and personal clothing/bouyancy aid etc so if you're thinking of coming get your kit sorted well in advance.